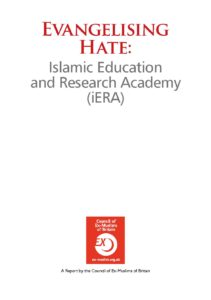 A new report from the Council of Ex-Muslims of Britain "Evangelising Hate" exposes the Islamic Education and Research Academy (iERA) as a Hate Group. You can read the report here.
Whilst iERA purports to be a missionary-like charitable organisation, it is in fact a "soft Islamist" group, which acts as the Islamist movement's public relations arm by promoting and normalising Islamist values and norms, including inciting hatred against ex-Muslims, gays, Jews, women, non Muslims and a majority of Muslims who do not share their values. In Britain and the west, groups like iERA use multiculturalism (as a social policy that segregates "communities") and cultural relativism as well as the rights language of diversity, tolerance and inter-faith dialogue to increase influence and access. Any opposition to their theocratic aims are met with accusations of racism and Islamophobia.
This timely report is being published just as the Charity Commission is investigating the group.
This report makes clear that iERA must be classified as a hate group and have their charitable status withdrawn. These will help bring clarity to their agenda and can be a starting point for a wider investigation into the influence of Islamism in modern Britain.
Read full post…